I LIKE TO PUNCH (Jungle Crunch Guide)
Crunch build by Cake 5,312
predecessor.pro/builds/1673831817-i-like-to-punch-jungle-crunch-guide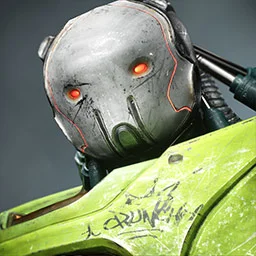 Introduction
Crunch is an incredibly powerful hero and can absolutely dominate games when in the right hands. Knowing which combos to use in every situation is just as important as your build. This build is geared toward jungling, but is viable anywhere you wanna run Crunch. This is a full, extensive guide on items, abilities, pathing, and other small things that should help you improve as Crunch.
Ability level order

01
02
03
04
05
06
07
08
09
10
11
12
13
14
15
16
17
18

01
02
03
04
05
06
07
08
09
10
11
12
13
14
15
16
17
18

01
02
03
04
05
06
07
08
09
10
11
12
13
14
15
16
17
18

01
02
03
04
05
06
07
08
09
10
11
12
13
14
15
16
17
18
Crest Selection

Warrior Crest
+6 Physical Power

Warrior: Upon dealing damage to an Enemy Hero or Monster, or killing an Enemy Unit, regenerate + 8% health over 10s. Upon restoring 200 health, evolves into Champion Crest.

Creep Slayer: Deal 15 extra basic damage to Minions.
Fenix
+15 Physical Power
+150 Health

Active - Rebirth: Mark your current location and resurrect at the mark with 40% maximum health and mana should you die within the next 4s - 210s CD.

Creep Slayer: Deal 30 extra basic damage to Minions.
Item Build
Full Guide
Crunch's abilities scale with both phyiscal and magical power. However, his physical scaling is better so this build has more physical power than magical.
At the start of the game, select the

Warrior Crest because it gives you a little extra damage and survivability until we can get
Fenix later. Then buy a

Shortsword, because we're going to be buying physical power items first. For abilities, unlock Left Crunch first because it has the highest damage out of all the abiliities and will help clear the jungle quicker.
Once minions are spawned in, go to your red buff and kill it -- using your

Hunt first (because it gives you more damage and sustain against monsters). Killing the red buff will get you to level 2, where you can take Right Crunch now for more damage. Now, kill the other two minion camps in the red side of the jungle. Once all three camps are cleared, that will get you enough XP to reach level 3 so you can take your Forward Crunch ability. ***DISCLAIMER: Obviously, the pathing in this guide is situational. It's just a general outline of what the pathing in a normal game looks like. If your team needs you or is in immediate trouble, then leave your jungle and GO HELP THEM.***
With all three abilities unlocked, look to gank one of the closer lanes. Either mid lane or duo/offlane (which lanes you're closest to depends on what side of the map you're team is on). Assess the situation of the two closest lanes, if one of them needs help then go assist for a little bit while your teammate(s) in that lane can get resituated. Or if the enemy is out of position, then you can capitalize on that and hopefully secure a kill or two with the help of your teammate(s) in that lane. The optimal way to fight as Crunch is to basic attack in between your abilities. So for example say you use Left Crunch, you should then hit with a basic attack and then use your Right Crunch. This is because there is enough time in between Crunch's basic attacks to use one of his abilities. This does not lose you any time and could mean the difference in losing or winning a fight. Additionally, Crunch's passive gives his first basic attack after using an ability bonus damage and reduces current cooldowns by 1 second.
After that, go back to base to regen your health/mana if needed and buy some more items. The first tier 3 item in this build is

Mutilator. Even after the nerf, Mutilator is a solid card that offers both physical damage and sustain. It gives you a decent amount of physical power as well as some ability haste (which is good early game since your abilities have a long cooldown).

Mutilator also gives you omnivamp and steals 5% of the enemy's health when you hit with an ability. This is a great option to stay healthy early game, so you can gank more and farm more minions.
Once you've spent the gold you have towards

Mutilator, it's time to go to the blue side of the jungle. Go clear the blue side of the jungle the same way you did the red side. When that's done, do the same thing you did earlier and look at your two closest lanes. If one of them needs help, then go help them. If the enemy is out of position, then go gank that lane and secure a kill if you can. Then you can go back home and spend your gold!
At this point the pathing becomes much more fluid. Just make sure your clearing the jungle camps sometime soon after they spawn in so you don't miss out on any gold/XP. Rotate between lanes and apply pressure when necessary, but kill the minions in lane or push the lanes up unless your teammates in that lane tell you to (you don't want to force your teammates to be out of position). Also, don't stay in one lane too long because you don't want to split the XP in the lane and make your teammates fall behind. As for your abilities, prioritize upgrading Left Crunch as much as possible as this is your main source of damage. Next prioritize Right Crunch, because this also does good damage and has really good effects when empowered. And of course whenever Re-Crunch (Crunch's ultimate) is available to upgrade, take that over anything else.
When you've unlocked your ultimate, this is where Crunch really starts to shine. Re-Crunch has a passive that gives every third ability within 10 seconds an "empowered" effect. This works on all of Crunch's abilities, so as long as you use one ability within 10 seconds of another, the third one will be empowered. Re-Crunch also has an active ability that, when pressed, will reuse the last ability that you used. So for example if you use your Left Crunch and then use your ult, it will use your Left Crunch again, even if your Left Crunch is on cooldown. Additionally, when Crunch hits with a basic attack after using an ability, his cooldowns are decreased slightly. The best combo for fighting enemy heroes is whatever makes your Right Crunch empowered. So for example if you need to close the distance on an enemy, use Forward Crunch > basic attack > Left Crunch > basic attack > Right Crunch. Using an empowered Right Crunch will knock up any enemy hit by it and as we all know, CC is king. Crunch's combos can be done incredibly quickly and his cooldowns are fast, so by the time the enemy is out of the stun you should be able to start another combo using Re-Crunch > basic attack > Left Crunch > basic attack > Right Crunch.
At this point, try to go for Fangtooth if your team is in a good position to do so. If you haven't upgraded Mutilator all the way, it may be best to get some help from teammates. But if Mutilator is complete, then you should have no issue getting Fangtooth by yourself. Make sure to use your

Hunt to secure the kill on Fangtooth every time to prevent anyone on the other team from stealing it from you at the last second.
After you fully upgrade

Mutilator, the next card is

Painweaver. This gives you more physical power and ability haste, as well as some physical penetration. Also with this item, after using an ability, the next basic attack gains bonus physical damage. Since basic attacks are being used in between every ability, this will be adding a lot of damage to our combos.
The next item we're going for after

Painweaver is

Megacosm. This will be our first item with magical power and it is a very powerful card on a hero like Crunch, who uses abilities very often.

Megacosm gives some more ability haste (which at this point isn't really needed but we'll take it because the rest of the item is fantastic), a good amount of magical power, and some mana. But the reason we're taking this item is for it's passive "Disintegrate." It deals 5% of the enemy's max health as additional magical damage over 3 seconds when you deal damage to them with an ability. Also, whenever you hit that same enemy with another ability within that 3 seconds it instantly deals an additional 2.5% of their max health and refreshes the duration. So, this alone will be doing a lot of damage since your abilities are being used in quick succession.
The next item is

Demon Edge. This just gives you a lot more physical power and survivability. While above 40% max health, you gain +15% bonus physical power and while below 40% max health, you gain 10% omnivamp. So this is just a nice item that will help you stay alive in fights.
The last item in this build is

Dreambinder. This is an item that I don't see many people running, but I find it to be very good. It gives you more magical power, as well as some health and tenacity. With this item, all your abilities will slow whoever you hit by 25% for 1.5 seconds and this item gives you +10% damage to slowed enemy heroes. So effectively, after the first ability hit on an enemy hero, you will just always have +10% damage against them as long as you are hitting them with your combos.
I've been playing since Legacy Paragon, but still take this build with a grain of salt. I don't know everything and what works for me may not work for you. So change this around as needed or completely disregard it if you think it's trash. But as always, the most important thing you can take away from this guide is to HAVE FUN!! It doesn't matter what build you're using if you're not having fun, so just do what you have the most fun with!
Have fun and be nice to each other <3
---
Please log in if you want to leave a comment on this build.
Comments