Muriel got tired of being your support.
Muriel build by Zar 3,212 10
predecessor.pro/builds/1675113144-muriel-got-tired-of-being-your-support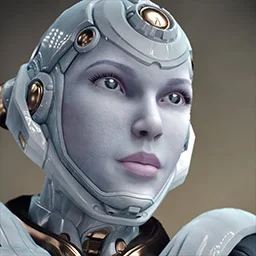 Introduction
**Long in-depth guide ahead** Muriel is not a support, and I stand by that firmly. Armed with an arsenal of shields, lasers, and the ability to literally fly, Muriel players shouldn't have to deal with the shortcomings of a lane that isn't under their control. Through the strengths of her passive, Sentinel, and her ultimate, Reversal of Fortune, I hope to enlighten Muriel players to start taking games into their own hands and show people that Muriel isn't just some support, but a robot to be feared. I play Muriel Offlane almost exclusively (I'd say like 70% of my games) and it's a lot of fun to kill a Grux using Muriel. You can view a video format of this guide on my YouTube channel: youtube.com/c/zahr3348
Crest Selection

Occult Crest
+10 Magical Power

Occultist: Restore 3 health each time you deal damage to an Enemy Hero or Monster with an ability (once per ability), or 4 health when killing an Enemy Unit. Upon restoring 200 health, evolves into Warlock Crest.

Creep Slayer: Deal 20 extra basic damage to Minions.

Typhoon
+25 Magical Power
+15% Attack Speed
+4% Omnivamp

Cyclone: Basic attacks grant a stack of Cyclone for 3s, increasing your attack speed by 3 (+3% Magical Power)%. Cyclone stacks up to 4 times.

Active - Mirage: When at maximum stacks of Cyclone, dash a short distance - 20s CD.

Creep Slayer: Deal 40 extra basic damage to Minions.
Item Build
Full Guide
Muriel Sucks As A Support:
Muriel, in the traditional support role doesn't allow you to capitalize on her incredibly powerful passive and her scaling. Muriel doesn't have hard CC, her utility comes in the forms of shields, which directly correlate with how much gold you have. This means that your shields will ONLY be as good as your income/build is, which CC on Steel, or Riktor (for example) always have their abilities at 100%. That's because the strength of CC does not come from it's damage, if that isn't obvious. It's just to enable your ADC or anyone else to an easy kill set-up.
This "enchanting" playstyle is unique to Muriel currently. There is no other traditional support without hard CC- it's just Muriel. This sets her apart greatly. She tries to make up for it through her (currently) unique mechanic of shielding, or damage mitigation. However, as you know, shields scale like damage, meaning that those shields take a bit to come online. So while your shield is blocking one basic attack, Riktors hook is getting his ADC an entire free kill. Hopefully you understand the paradox of having Muriel as a support. She's too gold dependent to make her shields compete with the pressure of CC.
That's not all though; what bothers me most is that when I see Muriel builds online, they all commit the same sin of building

Timewarp,

Marshal,

Requiem, and

Tainted Totem. These items are not efficient for Muriel. Most items built on support Muriel try to give her mana regen because mana is a notorious issue for her. So much so, that some builds will have 4-5 mana regen items, which is absurd because it doesn't help much in skirmishes where you have to be spamming. You run out of maximum mana just as fast.

Timewarp is the biggest offender because you could easily be building haste on her instead of compensating with the passive and an item that builds armor on the character who literally has shields.
Beyond items, Muriel's ultimate doesn't make sense when it's piloted by essentially the weakest member on your team, with the least offensive pressure. There is a reason that in other MOBA's, like League for example, relegate the global teleport to a solo lane tank like Shen-- it makes more sense. If you're trying to turn the tide of a fight, you can't expect to do that JUST through you being there. Muriel support can't even defend herself and she literally throws herself to the frontline after ultimate-- it seriously doesn't make sense. Her knockup also only works if you're willing to dive head first, so if you're gonna wait for your teammate to space before ulting, then you're wasting the most essential part of the ultimate after the shield.
TLDR: Muriel is a scaling hero that doesn't compete with other supports. She is a bad support because her numbers and design doesn't fit the circumstances of supports. She is meant to scale with gold and is punished very hard when gold-defficient.
Why have her in Offlane?
Simple reason: only viable lane currently (can't speak for Duo Lane Muriel as it's still in testing). Support already doesn't work. Okay. Why not Middle? Midlane has too many gap closing, burst heroes. Those counter you hard early on. Muriel is a hero who performs better in longer fights. Midlane is just assassins and burst mages. It's a burtal lane for her, that is also super susceptible to ganks. That leaves Offlane (Jungle mains better not even think about):
Offlane makes sense too though. You possess a range advantage to typical brusiers and tanks, so you can chip them down passively. Additionally, they're also skirmish heroes, meaning you can expect to have longer fights with them as they don't burst people (usually), but rather shred them down. Offlane is also notorious for being the "forgotten" lane because it's so far from Fangtooth, the most common objective, and also is more populated. This usually means you can expect a safer farming experience which is icing on the cake. Its also easy to track ganks on side lanes so you have less to worry about there. It just makes sense., Muriel is like Sevarog in that you want to just farm for a while, and then start taking over at 15:00.
Now that you've considered it, how do you play her?
Annoying. Be annoying. One of the BIGGEST mechanics you can abuse is minion aggression. This is ESSENTIAL to not getting ganked every 5 minutes and getting dove onto. Whenever you basic attack an enemy, minions will glow and begin to target you. This is called aggression. When minions are aggro'd, they will walk towards you. If you're out of range, that means they will walk closer to where you are (ideally towards your tower). Knowing this, whenever waves start to pass the 50% lane mark, start aggro'ing minions to bring them back closer to you, that way:
The enemy has to push up. You can stay near your tower since you have no mobility.
Additionally, this makes ganking the enemy insanely easy. It's borderline free. Once again, this is the MOST important mechanic to know for Muriel Offlane. If you ignore this, you will have a painful time.
You can actually win so many 1V1s level 1 and 2. Time your E for their Stun and you pretty much win. Save Q for when they start running. Don't be afirad of them. The minions will literally do more damage, so do watch for those. After level 3, play a little safer depending who you're fighting.
ALSO, you can EASILY contest green. If they ever go for it, just stand there. Don't even do anything. If they continue to kill it, just Q-BasicAtk it and if you timed it right it'll die. They lose a lot of farm if they just stall but its worth it so always look to contest it. Only take it if they're not around or if you have enough damage to do it quickly (which you can do after Prophecy usually)
Start + Crest:
Always go Occult for

Typhoon. Typhoon is just too good to forego. JUST. GO. TYPHOON. Learn how to use Mirage (Typhoon's active abiltiy) because that thing saves lives. I love Typhoon til I die.
Start with

Spirit Beads and learn how to conserve mana, Just because you can shoot the enemy doesn't mean you must. Make sure everything you do is meaningful. If you're REALLY struggle you can either start with

Wraps or

Tunic but this will set you back. But it's okay for learning.
And of course, the builds:
I won't drag this on. Muriel, unlike most heroes, suffers from a 3-core item curse. That is to say, she has 3 items that you pretty much MUST build. This is "bad" because it restricts build diversity without sacrificing something essential in the process. Thankfully, however, these 3 items are very efficient on her and syngergize very well on her. It just means that if an enemy knows what to expect, it's easy to expect your build before it's done.IN ORDER:

Alchemical Rod: This is the item you will build on your first recall to base. We will want it later.

Prophecy: A given. Prophecy basically double dips into your passive, which synegrizes extremely well. I't gives you a strong early game and once you have this you should expect to be a bit more confrentational - especially if the enemy doesn't have the item yet.

Astral Catalyst: Even if Ravenous, this item's premier passive, got nerfed to 10%, I'd still run it. Your ultimate is literally the backbone to Muriel Offlane. If you had ANY other Ultimate, this whole build would not exist. The whole point of you going alone to farm is to use that pressure around the map. But seeing as Muriel has the longest ultimate cooldown (I think) in the game, we have to remove this weakness as much as we can to enable a global playstyle. Other offlaners can't do what Muriel can with Astral. They have to pick between their lane and the fight. You get to do both which is an insanely strong privilege. It also of course gives you the stats you're looking for, and even though Spellslinger isn't that crazy on Muriel, it still helps.

Azure Core: It's obvious purpose is to resolve any mana issues you may of had. You also get power per mana which

Astral Catalyst gives so it's just a +1. Basically rounding out your core with everything you'd need. These 3 items alone can win you the game if you roam correctly.
After the core, you have some flexibilty as to what you would like to build. I've labled the builds below according to what you want. I won't explain them too in depth but if you really need to know you are welcome to ask.
If you're ahead or the enemy team is mostly squishy:
You want crown first because the stats from your core ar already so high they benefit from the pasive. Oathkeeper allows you to burst down squishies after you Q them. It's a strong build but it works better when ahead.
If you're dealing with tanks or they have a tank carrying:
->

Magnify
Sky comes first because it's passive does more than Magnify's does in terms of shredding. It also gives the needed heal to last long enough in fights since you're foregoing another magical item briefly.
If you are behind or someone else (ideally an ADC) is carrying your game:
You gotta be ready to turn all your offense into a hyper-strong defense. Notice how in this build, you're still never giving up your core. You don't need to do that to support your team (which is why Muriel Support builds are lame.)
CURRENTLY TESTING: Alternatives for if you're going even or want more surivival:
This combination gives you 121 Ability Haste which is just insanely stupid. Lifebinders passive is so good for Muriel now and I think it's something worth messing around with. It also gives magical leech for your basic attacks and such, so it's a more sustain and survive oriented build.
GOOD MURIEL ITEMS, BUT USE SPARRINGLY. THESE GO BETTER WHEN DEALING WITH SPECIFIC COMPS YOU WANT TO COUNTER:

Dynamo -> Can apply armor shred to an entire team if you use Ult on a team member who can dive.

Unbroken Will -> If they have 4+ CC champs build this 4th.

Spellbreaker -> If they rely on one hard CC (like if they only have a Riktor) and it's causing them to win.

Augmentation -> Something to consider for ADC Muriel

Resolution -> Strong pick for Muriel ADC but I don't talk about it because it's gonna get nerfed soon so I'm waiting for changes. Also trwo stacking items is greedy but it IS doable.
FINAL TIPS:
Ignore people who flame you, play this game to have fun. Muriel Offlane is fun. Communicate to your team. Call out blinks. Be proactive. If a mage is in your lane, expect to play extremely safe until you learn how to deal with them. Riktor and Sevarog seems to counter you pretty good. Steel might pose a problem. Do not be afraid to lose your first tower. It's honestly a good thing because it let's you roam more since your minions have mroe time to defend. Always look to Ult onto the Duo Lane as theres more people to kill which means more for your Astral Catalyst to reset off of. THINK BEFORE YOU THROW your to save someones life. It's shield DOES NOT scale and it's movement speed is small. If they're in DEEP then save it for yourself because what it does give, is a strong offensive edge. In a teamfight you're better off hoarding your RMB to yourself. Don't be afraid to use Ult mid fight. Just dont do it stupidly. Pick up River Buffs when you can early on. Ward your river. Do not abandone teammates unless they're 0/5 or worse. Your shields can absolutely let a 2/5 Grux win a fight. Help your team. That's why we even bothered farming. Do not run away from a big fight if you have 10% HP. You fucking stay in that fight even if you have 5%. As long as you have Mana, yuo are an essential part of your team. Just keep your distance and bait people for your kill. A good Muriel Offlane will have strong enough shields to survive a quick burst with E. TRUST YOURSELF. Always Q the most important target. Read your minimap once you get Ult. They can't always ping you. Skill order is Q-E-RMB Have fun!
---
Please log in if you want to leave a comment on this build.
Comments