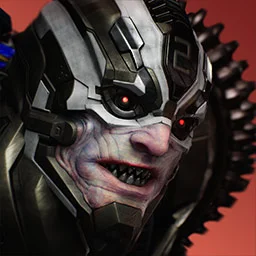 Introduction
Wanna utilize Riot Shield as much as possible? This build will allow you to stack amazing amounts of Maximum Health allowing you to have a chonky shield that will be difficult to take down let alone yourself.
Ability level order

01
02
03
04
05
06
07
08
09
10
11
12
13
14
15
16
17
18

01
02
03
04
05
06
07
08
09
10
11
12
13
14
15
16
17
18

01
02
03
04
05
06
07
08
09
10
11
12
13
14
15
16
17
18

01
02
03
04
05
06
07
08
09
10
11
12
13
14
15
16
17
18
Crest Selection
Guardian Crest
+50% Base Health Regeneration

Guardian: Your next basic attack or damaging ability against an Enemy Target will restore 20 health and grant you 20 gold. Charges generate every 30s, up to a maximum of 3, and require a nearby Allied Hero within 3000u to activate. Upon granting 240 gold, evolves into Warden Crest.

Pacifist: Receive diminishing gold from excessive Minion kills.

Sanctification
+200 Health
+50% Base Health Regeneration
+10 Heal and Shield Power

Active - Safeguard: Grants yourself and nearby Allied Heroes a 250 (+12% of Caster's Maximum Health) shield for 3s. While the shield holds, Heroes gain 60% tenacity - 120s CD.

Wealthy Pacifist: Increase Passive Gold Income by 50% and receive diminishing gold from excessive Minion kills.

Visionary: Gain Solstone and increase your Ward Cap from 2 to 3.
Item Build
Full Guide
Look, we all love our big, scary warden. Riktor's Riplash is a great tool for helping your carry obtain easy kills like they were served on a silver platter and his Shock Therapy definitely gets work done as it silences anyone foolish enough to go into his range. But personally, I feel his biggest strength lies in his Passive, Riot Shield. Adding 12% (subject to change) of Riktor's Maximum HP as a shield is a mechanic I don't see anyone really utilize on the big guy so here's a build on how to make the chonkiest chonk you've ever played that simply won't let go of the shields at any point in a teamfight. Here's the guide step by step on this Support oriented build for Riktor:
PART 1: Early Game 00:00-10:00
As you enter the battlefield, you need to realize that aside from getting
Guardian Crest, you need two things covered. 1. Counter wards a.k.a

Sentry will allow you to easily help your Carry get rid of enemy vision and at the same time earn a little bit of cash to start off your early game and 2. Rush

Fire Blossom immediately. This fancy cloak allows your early to mid game to be much more aggressive, utlizing how much CC Crowd Control Riktor possesses with his Riplash and Shock Therapy as the Heatwave passive on

Fire Blossom deals 15 (+1.5% Bonus Health) magical damage per second to nearby enemies that doubles if they're immobilized allowing for easy takedowns that would normally take a bit longer to take down with your lane partner.
PART 2: Mid Game 10:00-25:00
To really start utilizing Riktors kit as he (hopefully) has reached level 6+ at the 10 minute mark, we need to push for some powerful tools to further his kit. As you should've finished getting

Fire Blossom it's time to get ourselves the

Flux Matrix. This fancy lil' bugger can make the Mid Game fights much easier with the help of Unstable Shackles that make nearby Heroes take 15% additional magical damage and have their tenacity decreased by 20%. This will make Supports like Lt. Belica, Muriel and Dekker have a bad time as they're now forced to take fight or flight after a successful Riplash as all the Health items you've built so far allows for more damage overall without the need of damage items.
Now, about that Riot Shield passive... We simply need MORE HP! And what better way to buff it right up than with our lovely companion
Raiment of Renewal! It boosts a whopping +600 Health increase and has Mana, Ability Haste and Base Regen to really keep ya topped up at all times but it also regenerates 15% of damage taken over 5s with it's Regenerator passive and you gain Health Regeneration equal to 1% of your bonus Health with it's second passive, Synthesis. Now you're Riktorious and ready to brawl!
PART 3: Stardust Cr.... Never Mind, Bad JoJoke. 25:00+
The last super important item I simply cannot recommend enough is of course

Requiem. Now that teamfights are the bread and butter of the results of how this match is going down we gotta give our squad the power of the Elegy stacks! For you, it'll give 1 magical power and 10% base mana regeneration whenever a Hero dies close to you maxing at 20 stacks but for your allies it's downright nasty as it gives the Remembrance passive, granting nearby allies 1 physical power and 0.5% lifesteal per stack which at max stacks is no joke a big power spike.
The last item you should build is definitely up to what you are up against and I can only give simple examples for now as I am still learning to understand the items at a deeper level than going "recommended":
If you're up a very squishy team like having a Muriel / Sparrow lane on duo and a Shinbi on Solo,

World Breaker would be a great option.
If they have tank party with a fellow Riktor on Support and ex. a Sevarog on Solo, then you should consider

Tainted Guard.
If your opponents have gone for a low mobility composition like Sparrow or Murdock on the duo lane with a Dekker with a Khaimera in Jungle, you can definitely consider

Frostguard as your saviour for Late Game.
If your team on the other hand is filled to the brim with physical damage with only you on the Riktor being the magical attack oriented Hero, then by all means smack a

Citadel on the handsome man, he likes seeing the enemies suffer the consequences of getting close to him.

Unbroken Will and

Void Helm are both great choices for the Ability heavy opposing compositions. Gideon will essentially give you a free pass out of his Black Hole by just doing damage to you with the

Void Helm and

Unbroken Will is for those pesky CC chains actually helping you out a bit with the Health restore if you get immobilized or displaced.
Wanna be up close and personal even more?

Crystalline Cuirass pretty much works for and against any composition!
Don't you just HATE Revenant and Kallari with all dem crits?

Wardens Faith is here to save the day!

Dynamo is a fun item if you wanna help a lil' bit more with taking down targets with it's shredding capabilities after immobilizing an enemy.
Need more Anti-Heal?

Tainted Bastion is a perfect choice for those Late Game teamfights where healing would spell doom on your squad.
This is my very first build I have theory-crafted myself in Predecessor and I hope you'll give it a try and see for yourself just how much of a menace you can be on Riktor. Thanks for reading and have some amazing games! -WuffieGG
---
Please log in if you want to leave a comment on this build.
Comments