Riktor Offlane - Hybrid Tank + Damage
Riktor build by Lenny G 136 1
predecessor.pro/builds/1694295691-riktor-offlane-hybrid-tank-damage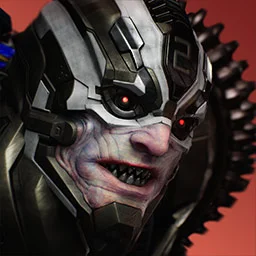 Introduction
Tired of choosing between being tanky and slapping opponents with magical damage? Well this build is for you! Add in the passives the items have that scale well with Riktor's insane CC and you'll be unstoppable before you know it.
Ability level order

01
02
03
04
05
06
07
08
09
10
11
12
13
14
15
16
17
18

01
02
03
04
05
06
07
08
09
10
11
12
13
14
15
16
17
18

01
02
03
04
05
06
07
08
09
10
11
12
13
14
15
16
17
18

01
02
03
04
05
06
07
08
09
10
11
12
13
14
15
16
17
18
Crest Selection

Titan Crest
+60 Health

Titan: After taking damage, heal 1% of Maximum Health over 10s. Upon restoring 300 health, evolves into Goliath Crest.

Creep Slayer: Deal 20 extra basic damage to Minions.

Saphir's Mantle
+300 Health

Active - Atlas: Gain (+18% Maximum Health) bonus health for 6s. During this time, dealing damage Slows Enemies by 15% for 1s - 90 CD.

Creep Slayer: Deal 40 extra basic damage to Minions.
Item Build
Full Guide
Overview
(Almost) every item in this build gives health. This is to take full advantage of Riktor's shielding passive. The build also focuses on using items that have additional effects against immobilized targets to combo with your hooks and ultimate.
Crest

Saphir's Mantle is my go-to crest for Riktor for the reason listed above; the ability to continue to grow your health makes the Riot Shield passive that much stronger.
Early Game

Fire Blossom is the quintessential Riktor item, so start with

Vitality Beads rush

Brimstone early. This increases your wave clear early & does bonus passive damage after a hook.
Mid Game
Next priority is more health, haste, and armor. Build

Dynamo or

Flux Matrix depending on if you need more magical or physical armor. Usually in the offlane you'll want more physical, but situationally magical will be more useful, such as against Shinbi. Both increase the amount of damage you do to nearby enemies, with

Flux Matrix increasing magical damage and

Dynamo causing immobilized enemies (from hooks or your ultimate) to take additional damage.
Now that we've gotten some armor, it's time to get powerful! The next item I like is

Elafrost to add some extra CC to your basics and be able to combo even harder with Dynamo/Flux's passive.
If you picked both of the physical armor items and could use a little magical armor in addition to power, build

Truesilver Bracelet. The passive also grants you a shield when you use your ultimate & deals magical damage to nearby enemies. More items that combo off that health we're building!
Late Game
The remaining items in the build are situational, but in addition to just building all of the above, these are some options I like with this build.

Tainted Guard is a must if you're against Grux or anyone else who builds physical lifesteal. If you built Dynamo earlier and/or don't need anymore physical armor, then I suggest

Tainted Scepter as your anti-heal item.
If you need some magical armor and want some extra sustain, I recommend

Void Helm. Taking advantage of the health and CC Riktor has, this passive heals you every time you immobilize an enemy.
If you need more physical armor and don't want to compromise power, I build

Golem's Gift
If you need more physical armor and your opponents are building a lot of attack speed, build

Frostguard
Finally if you feel like you have enough bulk and are ready to really punish enemies with those combos, build

World Breaker,

Oathkeeper, or both if you're nasty.

World Breaker grants additional magical power based on your bonus health, while

Oathkeeper adds even more haste and amplifies your basic attacks based on your magical power. Both items are great for really bursting down any enemies unfortunate enough to land on your hooks.
Good luck and happy fishing!
---
Please log in if you want to leave a comment on this build.
Comments